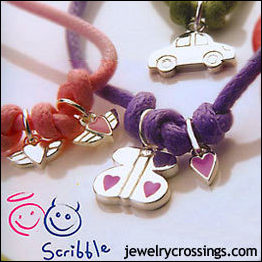 Saratoga, CA (PRWEB) September 19, 2006
Expanding its broad selection of Hot Diamonds jewelry, JewelryCrossings.com has now added a new childrens line called Scribbles. Available from the premier online retailer, Scribbles is a new sterling silver collection by Hot Diamonds that features soccer balls, butterflies, strawberries and many more icons that bring smiles to the faces of children. Recently launched by Jewelry Crossings.Com, the Scribble collection was added to cater to the ever-increasing childrens jewelry market, including the heightened focus on soccer.
According to Jewelry Crossings owner, Susi Van Wickle, Soccer is the fastest growing sport in America for children, and we now offer a line of jewelry that reflects that interest. The Scribble line offers a high quality product for children looking to individualize their look with soccer-themed jewelry, as well as butterflies, cars, angel wings and more. Ideal for the three- to- eleven year old set, the line combines colorful enamel inlays, brightly-colored cords and engraved sterling silver, which is safe and will last.
About the Scribbles Collection
Soccer Crazy pendants and bracelets were introduced to celebrate the 2006 FIFA World Cup play and score a huge hit for boys and girls with the sterling silver and ball soccer ball pendant hung on red or blue cord. The pendant is also available on a petite ball chain.
Butterfly Belle features sterling silver butterflies with pink enamel heart trim and is sure to make the heart of any little girl go aflutter. The butterfly design is available mounted on purple cord or sterling silver link chain as well as in tiny stud earrings and even a bangle-style bracelet. A style for every taste.
Strawberry Dreams is a sweet treat for that special girl who digs jewelry. Bright red strawberry enamel pendants hang from red cords or delicate link chains. Tiny matching strawberry stud earrings complete the collection.
Sweet Siblings honor the special giggles and secrets shared by sibs with a Big Sister or Little Sister bangle or the Big Sister link bracelet. These bracelets make a perfect gift to make the new big sister feel extra special when baby #2 arrives home.
In the Boys Will Be Boys department Scribble gears up with sterling silver car, train, sailboat and airplane pendants on bright cords for wrist or neck to take that little guy off to a land where kids rule.
Other Scribble for kids is Crown jewels for the little princess, Flower Power with a daisy of sterling and pink enamel and Angel Wings that tell her, I love you all the way to the moon and back.
Each piece of Scribble jewelry comes complete with beautiful pink or blue packaging designed to enhance the high quality of this product.
Visit Jewelry Crossings at http://www.jewelrycrossings.com to see the entire line of Scribble sterling silver childrens jewelry.
Jewelry Crossings, an Internet store since 2003, is owned by SCV Designs of Saratoga, CA. SCV Designs was first incorporated in Singapore in 1981 and has been serving customers in the United States since 1992. The companys mission is to offer fine jewelry from around the world combined with unsurpassed personalized customer service.
###
More FIFA Press Releases