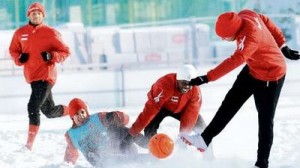 One of the major concerns, if not the major concern, of the World Cup in Qatar has been that pesky issue of its location – a very, very warm location. The summers are scorching and though their big promise to world football was air conditioned stadiums, as many have said: you can't air condition Qatar. Though they damn well might try.
With this in mind, figures have been popping up advocating a winter World Cup, touting its possibilities. Only they're not just figures, they're powerful figures, with titles and clout behind them; names like Beckenbauer and Platini.
And, much as we may not like him, the most powerful name of all: Sepp.

Blatter told a press conference in Abu Dhabi where the club World Cup is taking place that he too supported a winter World Cup.

"It is important to play when the climate is appropriate and I'm thinking about the footballers, not only the fans but the actors," he said.

"Personally I think it would be better that it is played in the winter … but it's not easy to realise."
I'm fascinated by this for one reason and one reason only; one which has nothing at all to do with heat, but rather one of the more underrated aspects of the World Cup: midseason form.
It's not some fallacy or media-derived buzzword; it's very, very real. Equally as real as the fact that the majority of the best players in the World Cup, those plying their club trade in Europe, partake in the World Cup after a gruelling domestic season, many of them with little left in the tank but adrenaline and their childhood dreams. Often enough, but less than ideal.
Now imagine you take those players, the best in the world, and toss them into the World Cup at peak fitness, peak form, and with a topped-up tank with which to dazzle the world. The summer World Cup may be tradition, but once, just once, we have to see a winter World Cup, for the sake of football itself. It may be unlike anything we've ever seen before, on a number of fronts.